About Us
The PTA committee is here to support the school by fundraising, organising events and applying for grants for the school to support the teaching of learning of our primary and secondary pupils. We are a group of very enthusiastic parents and teachers who meet up once a term in the school (we alternate primary and secondary campus for each meeting). We also have informal catchups to plan and brainstorm every 3-4 weeks in the White Lion, Machynlleth. A warm welcome to all if you would like to join us (just keep an eye on the announcements on the PTA group).
You can also follow us on our Facebook group (CRhA – PTA Bro Hyddgen). Keep an eye out for text messages from the school for information on how you can support us in our activities but also the school website and twitter feed for more information.  /
Ysgol Bro Hyddgen PTA are more than just a fundraising body, we also exist to create and encourage close links between home and school. We provide a friendly welcome for all parents or guardians of pupils who wish to be further involved in our school community and assist the hardworking staff in advancing our children's education. We are extremely proud of Ysgol Bro Hyddgen and the supportive nature of our community and it is our goal to continue to provide ways in which parents can participate in enriching their child's school life.
A number of enjoyable fundraisers are organised throughout the school year and all money raised at these events goes directly to benefitting the pupils and enhancing their learning experiences. Over the years we have had the pleasure of funding activities such a workshops and educational visits and items such as IT equipment, sports equipment, books and many other resources to support the school in its mission of 'empowering dreams
Thank you
Thank you to the following by supporting us this year with our fundraising:
1/  Vouchers for a Real Christmas tree from Ogo fach.
2/    Voucher Plas Dolguog Hotel
3/  Voucher Glan yr Afon Pennal.
4/    Voucher Cinema for 2 Libanus cinema Borth.
5/    Voucher £40 Wynnstay Hotel
6/    Voucher for Gel nails by Mel.
7/    Co-Op – Supplies for our Summer fair / Christmas cinema night
8/    Tuffins – Supplies for the Summer fair / Christmas Cinema night
9/    Welsh Tea Voucher Gegin Fach Tearoom
10/  Express Indian Voucher Kindly donated by Bruce and Jo
11/    £10 Voucher from Deco Shop
12/  Celtic Pen / Silver Necklace Donated By The Jewellery House Aberystwyth
13/    Voucher from The Beauty Room
14/    Coffee and Cake Voucher plus Bottle of Red wine from Number 21
15/    Blasau Deli Hampers 
16/    Collection of Fabulous Books Kindly Donated by Ian Snow
17/    Black Lion Vouchers
18/    Dyfi Wholefoods Organic Elderflower Cordial / Organic Chocolates
19/    Caffi Alys Vouchers for Christmas Art competition / Mulled Wine
20/    Chocablock Corris Kindly supports us all year round
21/    Aberdyfi Ice Cream Kindly donated 2 x £10 Vouchers
22/    Meatpoint £60 Voucher
23/    King Arthurs Labyrinth Voucher
24/    All the Individual Units at The Corris Craft Centre Kindly donated to our Summer Fair
25/    Will Lloyd Butchers Machynlleth Kindly supports us all year round
26/  Freedom Leisure Voucher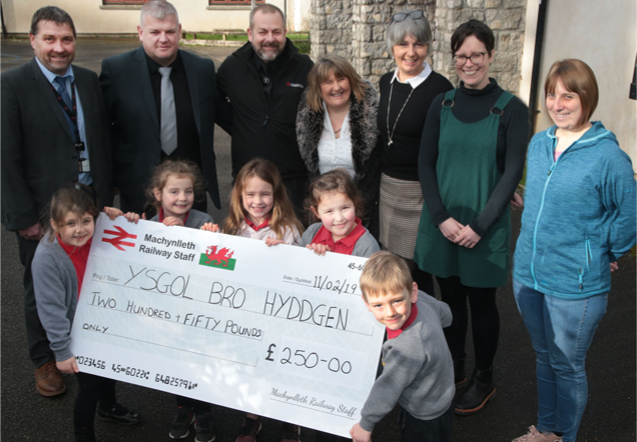 In recognition of children's mental health week, Transport For Wales staff at Machynlleth Railway station have kindly donated the profits from their restroom tuck shop to Ysgol Bro Hyddgen's PTA committee. Simone Thomas one of the volunteers from the tuck shop said "We wanted to recognise the hard work of the PTA along with supporting the well being of the pupils".
The chairwoman of the PTA Aimee Roberts was delighted with the donation and said "The money would help towards activities being organised within the school to promote children's well being and wanted to thank all who had supported the tuck shop".
Diolch yn fawr iawn!