Gwisg Ymarfer Corff – PE Kit
Mae'r gwybodaeth hwn i sicrhau os ydych yn prynu eitemau Addysg Gorfforol rhwng nawr a dechrau'r flwyddyn academaidd newydd eich bod yn ymwybodol o'r cit newydd sydd ar gael.
Mae'r newid yn cael ei gyflwyno i ddarparu ystod ehangach o eitemau Addysg Gorfforol i ddisgyblion. Nid oes rheidrwydd arnoch i newid neu amnewid eich eitemau AG cyfredol.
Mae'r gyfres newydd o ddillad ar gael yn www.ambitionsport.com. Efallai fydd rhai eitemau porffor yn cymerid rhai wythnosau i gyrraedd yn y lle cyntaf gan ei bod yn gynnyrch newydd sbon.
Mae'n bwysig nodi y bydd dillad Constructiv yn dal i stocio ein heitemau gwisg ysgol ffurfiol.
This information is to ensure that if you are buying PE items between now and the start of the new academic year that you are aware of the new kit range available.
The change is being introduced to provide pupils with a wider range of PE items. You are not obligated to change or replace your current PE items.
The new kit range is available at www.ambitionsport.com. Some of the purple items may take a few weeks to arrive in the first instance as they're a brand new product.
It is important to note that Constructiv clothing will still stock our formal school uniform items.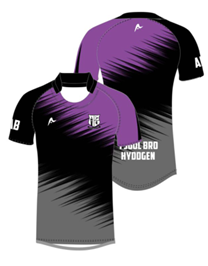 System Archebu - Ambition Sports - Ordering System