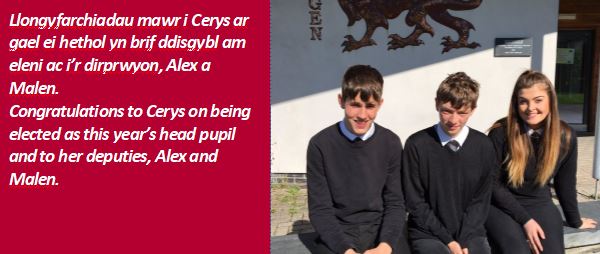 Since the beginning of term, we have had many school council meetings to discuss various topics and get the views of the pupils. Are main priorities as a school council are the following:
The Language Charter and promoting the Welsh language and Welshness;
Charity work, e.g. targeting polio, supporting a cancer and children charity, Diabetes UK, Welsh Air Ambulance;
Targeting homophobia, sexism and racism in the school;
Re-establishing the eco-committee on the secondary campus;
Consider what is useful homework
Some of the ways we wish to tackle these are:
We hope to organise events such as discos with welsh bands and music to help promote the welsh language and the welsh culture. Organise own clothes days but also other alternative ways of raising money for charity. An example of this would be from one of the school council members Ieuan Jones organising a 'Who Wants to be a millionaire' show during lunch to help raise money for children in need. The Head-Pupils main priority this year is to tackle homophobia, sexism and racism in the school to make sure that every pupil feels safe and valued in the school. To achieve this Cerys has started a group of like-minded pupils, in school, to support each other and would like to begin organising workshops and assemblies.
In the future we would like to continue our work in raising money but organise things such as football games vs the teachers to also raise money for the charities. We would also like to continue with the regular meetings to make sure we hear the views of the pupils and their opinions on the subject.
Alex Monnox